Some pet owners will leave no bone buried when it comes to buying their beloved animals presents at holiday time. From the cushiest cushions, to stylish coats to doggie cologne, furry family members desrve a treat, too.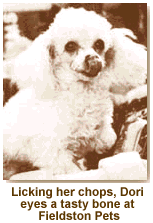 Local pet shop, Fieldston Pets is gearing up for the season, and stocking their shelves with seasonal pet accessories.
It's not surprising that local pet owners go a little crazy at holiday time.
After all, "When dogs give you unconditional love, why can't you show unconditional love back?" says Riverdalian Bash Dibra, co-owner with his sister, Riverdalian Meruet Dibra, of Fieldston Pets.
Some people, according to Mr. Dibra, don't even stop at buying their animals presents. "What's been happening now is that people have special parties for their pets," he said.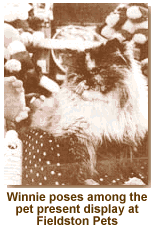 Most owners, however, will stick to gift-giving.
Even Coach, the upscale leather store, has branched out into pet accessories. For just under $40, pets can now have Madison Avenue style around their necks, with leather collars and leashes to match their owner's handbags.
However, some of the most familiar and inexpensive animal toys are still the most popular things going.
"The best things we have for pets are these wonderful, squaky noisemakers," said Mr. Dibra, who stocks some that make animal sounds. "It keeps them busy and alert."
(A Reprint from The Riverdale Press, December 3, 1998)