Bash Dibra is a big, ebullient man with a warm smile, a gentle manner, and a lifelong affinity for dogs. When he was only three years old and fled with his family from Albania to a refugee camp in Yugoslavia, he made friends with the attack dogs that guarded the compound. Later, as the family traveled through Europe, Bash was able to work with master dog trainers, and he continued his work when he came to the United States. Then came the opportunity to raise and train a wolf, and through this experience Bash developed his unique methods of dog training.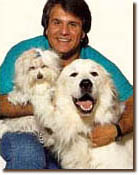 As author of two best-selling books on responsible pet ownership, training and the proper treatment of animals in the entertainment industry, Bash Dibra sets the industry standard of service to celebrities and their pets as well as to pets who are celebrities in their own right. Mr. Dibra has trained the pets of countless celebrities, including Matthew Broderick, Sarah Jessica Parker, Kathleen Turner, Mariah Carey, Joan Rivers, Kim Bassinger and Alec Baldwin. His own pets are celebrities themselves, featured in motion pictures, television commercials and print ads.
Bash has appeared on countless TV shows promoting responsible pet ownership, and he works diligently behind the scenes for animal welfare and to promote animals in service to mankind. Bash credits his incredible way with dogs to his beloved wolf, Mariah, who taught him so much, and who was the official symbol of the 1984 Winter Olympics in Sarajevo.